Post by BlackScorpionIII on Feb 10, 2016 9:14:08 GMT -6
"Comics aren't real life." Sometimes this gets told to overeager comic readers by family and partners. Sometimes this is something that comic readers have to remind themselves. It's something we have to do because the thing that humanizes our larger-than-life characters is their struggle with mortal problems. Yes, they may win the day, but do they have to worry about keeping their lives together? Despite having greater abilities that you or me, don't they still have to look for their place in the world? Our heroes have their struggles, but there's one we don't believe anymore: Their end.
The revolving door to heaven has allowed the industry to spike sales and change the hero lineup on a temporary basis. It's hard to say who "stays dead" in a world of timeline mishaps, Atlantean/Kryptonian technology, and the rebirth of entire universes. It's also hard to point to characters that hang up their capes for good when new editors or writers decide they'll go back for more stories from old heroes- now, somehow 20 years younger and more vibrant.
Pictured: Alan Scott in a toupee. A decade later he returned looking younger than Hal as Sentinel.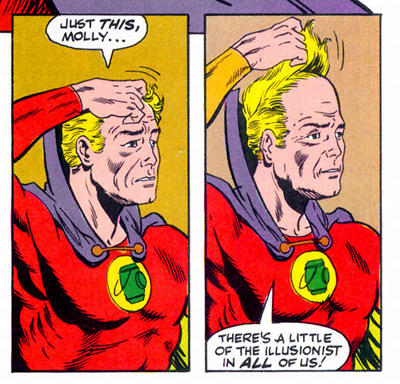 Sometimes wrestling is similar. Terry Funk wrestled his last match in Japan in 1983. (That's where this clip comes from:
youtu.be/sL_mm7_D1wM
) He had his "last dance" against Sabu in 1999 in Ontario. He had a 2005 retirement match teaming with Dory Funk against America's Most Wanted. In Fall of 2015 he had his "last match ever" against Jerry Lawler. I don't know how many "last" matches he's had, but he's not alone. Ric Flair, Hulk Hogan, and Mick Foley have all laced up their boots after having some official retirement. Sometimes this is because a desperate industry needs them to bring the fans back. Sometimes it's because they serve a very specific purpose in advancing a bigger story. But unlike comics, sometimes that larger than life person just wants to keep going and can't give it up. Comics have some great stories about heroes that don't want to give up the mantle (-the May 2015 issue Astro City #21 did an exceptional job with this). But comic heroes can't bring themselves back into the story. Wrestlers can.
Pictured: Dory and Terry Funk in 2005. Terry is still wrestling decade after this was taken.
Well, they can until they can't. And that's what I wanted to talk about.
On Monday, February 8th, Daniel Bryan retired from wrestling. His last match was a tag team bout (-fittingly, with three other wrestlers that have been absent for the past several months due to injuries) in April of last year. At the age of 34, Daniel Bryan has suffered too many concussions to continue wrestling without risking more serious permanent damage than he's already endured.
How do comics deal with injuries? There have been replacements. There have been new roles carved out for our heroes. There's been special armor made to make them active again. But whether or not those were good fits, the industry found ways to bring them back stronger than ever. If death isn't considered an acceptable end to a hero, it's clear that injuries aren't either. But comics aren't real life. And real life endings can come from injuries.
How did wrestling deal with Daniel Bryan's end?
Pictured: Daniel Bryan announcing his retirement.
A live airing of RAW offered Daniel a microphone and the ring to himself for the last 15 minutes of the show. He said goodbye. Fans booed when he announced his retirement, desperately wanting to see their favorite wrestler in action again. After seeing a revolving door to retirement, they had hoped this was just some writing angle. They speculated on Twitter about how, at any moment, it could be revealed that he was coming back to wrestling again. But Daniel continued to talk about the highs and lows of his last years in wrestling, then thanked the fans, his mentors, and his friends for giving him the life that he had. And it was clear that this was the end. The crowd didn't boo. They cheered. They cried. They stayed after the show to continue a standing ovation even after he'd gone backstage.
And that's it. Fans will talk about "what could've been" if he'd been able to keep wrestling. Fans will continue to talk about how matches and storylines would be better if only Daniel Bryan was still around. But they know there's no revolving door with this one. That's the glory of the past and it's a standard that our current roster has to live up to.
I think about endings that were done wrong in comics and I don't know where to start. Sometimes endings telegraphed a quick return (-PICK a Fantastic Four/Doctor Doom death!). Sometimes the return seemed motivated by a writer's wishes rather than a need for a character (-Kevin Smith and Oliver Queen). And sometimes denying the death of a character keeps them around much longer than they should be allowed to (Aunt May).
I think about endings that were done right, and I think of Barry Allen's death in Crisis. He died saving all of existence. We watched his life pass in front of him and saw how difficult it was for him to leave everything behind. After his death, we didn't countdown to his next comeback, but wondered whether the world of heroes could ever have another Barry. It burdened the new generation of DC heroes (-Wally West, in particular) with filling some awfully large boots. His legacy would be mentioned. Our heroes would tell us about what they learned from Barry. He would even have his legacy immortalized in a Flash Museum. But that was it. It was an end and it mattered. ....until it didn't, two decades later.
Comics will continue to publish stories about the end of heroes, but they'll never be able to capture the real struggle of mortal people until closed doors stay closed. A Death in the Family, a Death of a Family, and an RIP now, in 2016, have left no characters dead. Aunt May lives, Barbara walks, and Barry has replaced Wally. I wholly acknowledge that comics are able to do things that wrestling never can, but the inability to accept losses in comics will always undermine their ability to give a proper end to their characters.